This semester
This semester is 15 sessions long. There will be no class on 01 April 2014 (also known as April Fools' Day ) as I will be in the UK at a conference of English Language Teachers.
There will also be an Easter Holiday break of two weeks as well.
Plans
The plan is to finish the current book Basis for Business B1 by Carole Eilertson and Mike Hogan doing Units 8 to 10 plus lots of extra material too.
I do try to update the webpages here quite regularly so keep checking them out.
The warm up
We warmed up by considering the cold weather we had had recently
Unit 8
We started to look at Unit 8 of the book and the theme is a trade fair and virtually everyone had been to one at sometime in their lives.
We considered what would be needed if our company wanted to have a stand at a trade show and thought of these:
information and brochures
posters pictures of the products and roll-up banners
gifts, give-aways (also written giveaways) or freebies
a

COFFEE

machine that works!
snacks for the people working on the stand
sample products (if they fit)
lots of business cards
furniture (chairs, desks, boards etc.)
video equipment (a projector, screen or television
name badges
marketing and sales staff to operate the stand.
We also considered what sort of things we would offer as a freeby
caps or hats
mugs or beakers
lanyard for your keys
towels
sweets (or candy if you are in the

USA

)
ball-point pens
bags

USB

sticks
anything with the company logo on it
We then looked at exercise 2 and after some discussion where we considered the "Sherlock Holmes Principle": we think the answers are as follows:
| | | |
| --- | --- | --- |
| slogan | | picture |
| 1 | | C |
| 2 | | A |
| 3 | | D* |
| 4 | | F |
| 5 | | B* |
| 6 | | E |
*these two were honorably discussed by the group as some had it the other way round.
When we considered an ecological product we felt we needed to clarify three words:
organic
fair trade
ecological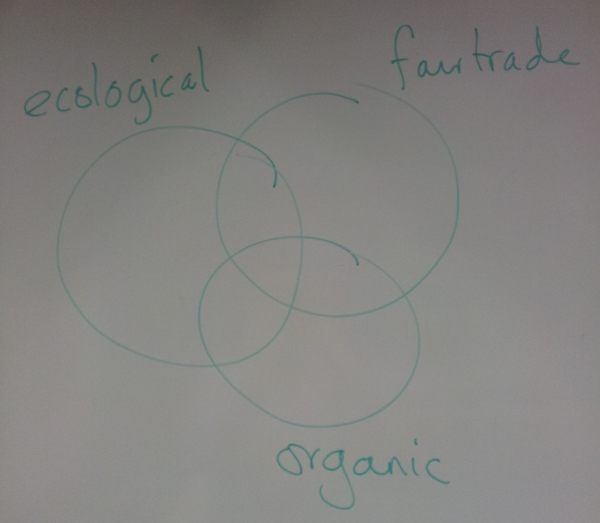 Homework
For the new people they need to get the book.
Everyone needs to look at the vocabulary in the small book and read through the next part of the Unit in preparation for next week.