17 February 2015 is Shrove Tuesday
Shrove Tuesday is in the English-speaking world more highly regarded than "Shrove Monday" or "Rosenmontag" is in Germany. It is often called Pancake Day (or in America and Australia Mardi Gras) – though it is rarely a school holiday or a public holiday. The traditional food on Shrove Tuesday is the pancake made with milk, flour, eggs and butter – things that traditionally would not be eaten during Lent
Clothes at work
Here is a picture of me drawn by a student of mine 26 years ago (the student would now be in her early forties!)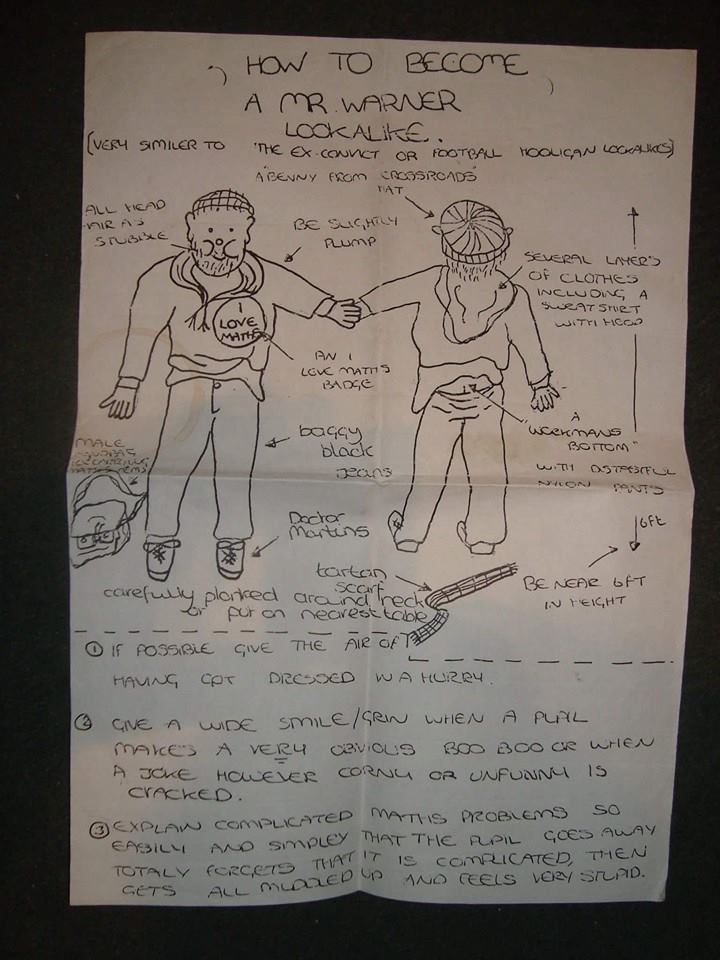 Which shows that when talking about fashion and clothing – I have little to say.
We explored some of the language of clothing at work and decided which items of clothing counted as formal, casual or workwear (remembering that some items could be in all the categories)
communications at work
We looked at the type of language we use in various contexts at work and how that language is different in English.
Cake
We had some cake and here is the recipe:
ingredient
500 g
stale bread
600 ml
milk or water
150 g
sugar
500 g
dried fruit
currants, raisins and sultanas
some
candied peel and glacé cheries
150 g
melted butter
2
eggs beaten
Instructions
break the stale bread into crumbs and put in a bowl and pour the milk / water over the bread and leave it to soak for about an hour.
place the soaked mixture into a food processor and blitz the bread / milk mixture until a smooth paste and add the sugar, melted butter and beaten eggs
remove from the food processor and fold in the dried fruit and the other ingredients to taste (you can soak your fruit in cold tea overnight because it plumps them up)
spoon the mixture into lightly oiled cake tins – the most common type of tin used is a 1 kg loaf tin (in which case you will need two).
back for 1 hour 30 minutes at 175 °C until it is springy to the touch.
allow to cool and then turn out and serve slices (warm with custard) or cold as a cake.
This is a varient on a BBC Good Food recipe you can find here
Homework for 24 February 2015
As several students wanted more time on the homework for last week there was an extension for that and everyone was asked to prepare the first part of Unit 4.